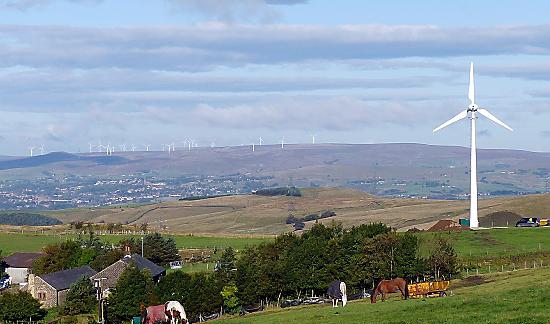 The aim of this entry is simply to remind people of the adverse impact unwelcome wind turbines have upon the the health, beauty and well-being of the Peak District and South Pennines. The Three E's are my chosen method for removing this unwanted blight: (1) Education; (2) Engineering; (3) Enforcement.
Let's start with Education. Each of us has a duty not to harm the Peak National Park in any way. This is enshrined in The National Parks and Access to the Countryside Act 1949, which set out two statutory purposes:
"1. to conserve and enhance the natural beauty, wildlife and cultural heritage of the area, and
2. to promote opportunities for the understanding and enjoyment of the park's special qualities by the public."
It's self-evident that wind blight falls foul of both of these statutory purposes, so right from the off there is justification for enforcing the removal of all wind turbines from The Peak.
We show the proper respect for nature, wildlife and humanity by leaving the countryside just the way we found it, not by selfishly spoiling beautiful landscapes for others. 
I learnt this life lesson when I was about four, and so I deeply worry for the following turbine owners, who clearly missed out on this rudimentary childhood education. It tallies with my theory that, generally speaking, wind turbine owners aren't well-rounded, well brought-up, nice people who have the best interests of their local communities at heart. There's clearly something a bit dysfunctional about a lot of wind turbine owners.
I have devised a 200 mile circular route around the Peak District, which forms the basis for my regular Peak Patrols. Any unpleasant wind turbines that are adversely affecting the special qualities of The Peak are duly noted, and those responsible educated about the impact of their unwelcome turbines.
One hopes that Education is all that's needed to wake up the guilty parties as to the necessity for them to remove their toxic wind blight ASAP, without the need for deploying any Engineering or Enforcement solutions.
The following wind turbines, having been flagged as causing unacceptable harm to the well-being and beauty of The Peak, are now under close surveillance and performance monitoring.
This list is dynamic and ever-changing: my eventual aim is that we can write in large red letters "DECOMMISSIONED" by the side of each and every turbine included in the blacklist. So watch this space and let's see how many turbines can be downed over the next few months!
BUXTON / STAFFORDSHIRE MOORLANDS:
AMBER VALLEY:
Highfield House Farm S45 0LW (2)
DERBYSHIRE DALES:
Carsington Pastures Wind Farm DE4 4ES (4)
SHEFFIELD / ROTHERHAM:
Moss Valley Fine Meats S8 8BG (1)
Penny Hill Wind Farm S26 3YF (6)
University of Sheffield Advanced Manufacturing Research Centre S60 5TZ (2)
* ONE TURBINE CURRENTLY INACTIVE (clearly not so advanced manufacturing after all!)
Upper Birchitt Farm S18 8XL (3)
* ONE TURBINE CURRENTLY INACTIVE
CROW EDGE:
Blackstone Edge Wind Farm HD9 7TW (3)
Hazlehead Wind Farm S36 4HG (3)
Royd Moor Wind Farm S36 9PA (13)
Spicer Hill Wind Farm S36 9PA (3)
HOLMFIRTH / MELTHAM:
New Dunsley Poultry Farm HD9 2SW (1)
Upper Whitegate Farm HD9 2TH (1)
* TURBINE CURRENTLY INACTIVE
SADDLEWORTH:
SCAMMONDEN / OUTLANE:
Marsden Gate HX4 9LD (1)
Mount Pleasant Farm HX4 9LG (1)
Round Ings Hall Farm HD3 3FQ (3)
RIPPONDEN:
Crow Hill End Farm HX6 3HA (1) 
WEST YORKSHIRE MOORS:
Jaytail Farm BD20 5RL (1)
* CURRENTLY INACTIVE
Keelham Farm Shop BD13 3SS (3)
Ovenden Moor Wind Farm BD22 9HP (9)
EAST LANCASHIRE MOORS:
Coal Clough Wind Farm BB10 4RR (8)
Coldwell Reservoir BR10 3RD (2)
Crook Hill Wind Farm OL14 7RJ (11)
Hyndburn Wind Farm BB5 3RP (16)
Reaps Moss Wind Farm OL13 9UZ (3)
Scout Hill Wind Farm OL12 7TY (26)
Stand Lees Farm OL11 5UN (1)